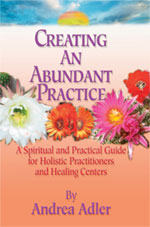 Creating an Abundant Practice
By Andrea Adler
"This book covers everything a holistic practitioner would need to know to start and develop a holistic practice – from envisioning how the future will ideally look to actually breaking down the many steps necessary to making that vision a reality.
"As an ex-venture capitalist who has worked with many emerging growth companies, I am intimately familiar with the steps necessary to grow a company. This guidebook not only lists those steps, but includes the spiritual aspects critical to success and which lead to true fulfillment. This is the book's genius: wedding the practical with the spiritual to create wholeness.
"All entrepreneurs, not just holistic practitioners, would benefit from reading this book and incorporating these concepts into their own businesses. I highly recommend it.
–– Edwin Harkness Spina, Author of The Mystic Warrior
"Finally, a book that succinctly brings together the practical side of marketing with the necessary Spiritual side allowing the reader to see how the two work hand in hand. Andrea's book not only makes for an easy read, but she gives you tons of examples to draw upon so you can start immediately implementing the marketing of your business without spending thousands of dollars. The sound marketing advice she shares proves her business expertise while the spiritual aspect of the book is a beautiful reflection of her whole being. Andrea comes from a place of integrity and love. This book is a must for all practitioners ready to move their business to the next level monetarily and spiritually."
–– Linda Salazar
"As I read 'Creating an Abundant Practice" by Andrea Adler I realized that I finally found the answers all in one book. As A clinical nutritionist in private practice I have for years sought a cohesive manual/text/course that tells how to create a thriving practice while at the same time honoring the concept of abundance. Andrea Adler's book does just that.
"The first 4 chapters begin with a discussion that includes the notion of seeing and intending what you really want from your practice in the future. What a concept! So many of us are sprung onto the business scene and never define, state or even know out true desired intentions. The book then helps you learn how to extend this vision forward through the practicalities of creating your practice. Andrea tells how to create the best business card, resume, sound bite, brochure and advertising techniques that reflect the image you choose to put forth. There are many examples of business cards, resumes, splash sheets and ads which are clear and helpful. This book will take you step by step through the journey of building a prosperous business. This book does not teach you how to become a business barracuda. Instead the emphasis is on you, your integrity and the potential for abundance. Andrea's tone is playful and always positive which makes the book a pleasant read."
–– Joy Pacitto
"For anyone in any kind of healing or holistic business, or anyone in any business who wants to avoid the 'souless' sell – this is the book. Adler combines a higher consciousness with nuts and bolts, a spiritual ethic with a New York style sense of smarts and practicality. She backs this up with years of study and creates a tangible how-to plan. Read it – and take notes. This is the real thing."
–– Ride em Cowboy
"It is true that holistic practitioners and creatives generally have a difficult time bridging their left and right brains to manifest financial prosperity. Andrea Adler provides us with a road map to the "new paradigm for success" as we move through a turning point in human psychology making it possible to quickly and effectively manifest abundance in our lives and practices while serving humanity to our highest potential. I would recommend this book to everyone who desires to create prosperity by expanding their consciousness. Adler knows her PR stuff but has also incredible sensitivity and insight into the holistic healing challenges. She keeps it simple and heart felt."
–– Stefania Masoni, Author of
The Good Feng Shui Toolbox, Creating Harmony in the Office"
"Creating an Abundant Practice" is music to my ears. I enjoyed the simple yet practical information shared in this book. I felt as though she was speaking directly to me and more than in just words. The energy behind the words are also supportive. The author truly understands the plight of the energy healer/psychic reader such as myself and I really appreciated her personal vulnerability. I look forward to anything Andrea Adler has to offer!"
–– Dana Plant, Metaphysician
"I must admit that I got this book for my niece who is in the medical field and thinking of opening her own practice. I looked through it too and I can honestly say that it has everything and more that I could think of in it to be able to do just that. It is filled with great information and is very comprehensive. I think it will be a great help to my niece as she sets up her own practice."
–– Lynn Bryan