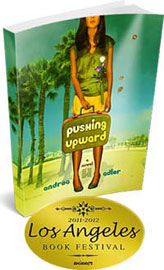 PUSHING UPWARD
Inspired Readers
"Pushing Upward is brave writing, a young woman's journey toward her dreams, avoiding traps and falling into them, slipping back and finding the grace and will to go on — and so it reflects on our own journey and makes us braver, too."
–– Gerald DiPego, screenwriter for
Phenomenon, Message in a Bottle, Instinct, The Forgotten, Angel Eyes, Sharkey's Machine, Words and Pictures
"We may all be searching for an oracle, a teacher, the way to free ourselves from our past. We do so through self-inquiry . . . In Pushing Upward, we fall in love with Sandra Billings and watch her painstakingly consult the I Ching with a variety of decisions and questions . . . We cringe along with her in moments of despair, humiliation, and we rejoice with her every triumph."
LA YOGA MAGAZINE
"Not what I expected . . . it was great!"
NOOK
"This is one of the most heart-touching, inspirational and interesting books I have ever read. It is so unique, so original. Laced with the author's own experiences of being and actress, journalist and spiritual women, the reader is welcomed into a world of theater and an emotional roller coaster of the drama of Sandra's inner and outer life."
An Angels Kiss BLOG –– Angel St. John

"This love story captures the essence of a modern use of the I Ching in the most elegant and accurate way.
–– Paul O"Brien, Divination Foundation
"Andrea Adler deftly interweaves themes of love and betrayal, friendship and higher guidance, ego and surrender to create a compelling and thought-provoking read."
–– Miriam Knight, New Consciousness Review
"Adler gives readers a wonderful coming-of-age story set in the retro-70's, when payphones were necessary, a call was 10 cents, and Batik clothing was all the rage. This is the story of Sandra Billings, a young woman striving to mature into a professional actress and reliable friend.
"The I Ching threads throughout the narrative, wending around numerous dysfunctional Hollywood auditions, lecherous producers, crazy dating scenarios, her best friend abandoning her acting path for a more traditional lifestyle, and the raw realization of Sandra's history.
"Pushing Upward shows us how the I Ching can be used as an oracle for daily living. The surprise ending pulls all the drama together and allows the reader to witness Sandra's "overnight" transformation from immature wannabe starlet to serious professional. This is a story all generations can appreciate."
RETAILING INSIGHT
"As someone who is about to turn 21, Pushing Upward was the perfect book for me to read. Finding my path has been really important, and so is finding a mentor.
"By reading Pushing Upward, I was able to identify so much with Sandra and her peaks and valleys. Fortunately, I have a mentor who motivates me to excel and doesn't take no for an answer. I don't know what I would do without her. This is why I really connected with the book. I know the importance of mentorship.
"Being in my 20s and thinking about my future is pretty scary. Sandra knew what she wanted, so it's pushing me to think about my own and want I want to achieve.
"This was a passionate journey that can engage anyone from start to finish."
–– Grace Kiley, Student (20)
"Inspiring and insightful, Pushing Upward seemed to come into my life as serendipitously as the elderly Emma responded to Sandra's fateful ad in Andrea Adler's tale of transformation. Sandra's entertaining story isn't just for the young twenty-something looking for direction; it's for anyone who has let doubt derail their dreams and is open to examining themselves, just as Sandra does on her journey.
"The novel is a cautionary story of how we let our past hold us back, how we use excuses to prevent us from acting in the present and how to positively embrace what our future holds. Uncertainly is expected, the test is how we respond to it!
"Incorporating the I Ching, an ancient Chinese divination system popular in the 70s, Pushing Upward introduces a tool that readers can use to better reflect on the big and small questions in our lives. After reading Andrea's book, I bought the I Ching and its millennia-old wisdom is a helpful sounding board and guide.
"For the people who give us strength and guidance, Andrea and the I Ching remind us to value them. And, more importantly, to be a source of strength and support for others – no matter how consumed we become in our own lives.
Pushing Upward is a lesson to be open and realize that "every encounter, every experience teaches us something." People come into our lives for a reason – to help, to test, and to teach.
"Pushing Upward helped me to overcome my own uncertainty and reluctance to ask for help, and appreciate those that offer it. Andrea's book and the I Ching taught me to "not allow daggers of doubt to puncture your heart" and that with patience and effort, success is what you make of it.
–– KIM HUNTER, Marketing Consultant
"I have to say, I haven't been as positively affected by a novel and so connected to a text before. I've never had someone put words down that so accurately described what I couldn't think of how to express. Adler's first few pages hooked and haunted me in such a way that hit a bulls-eye directly where my life was at the moment. Accurately capturing the paralyzing panic over life becoming a tragic myth and careening out of our control to the point where identity is even affected, then waking up to the truth that it is just us that control our destinies and the strength it takes to make that realization and take a chance on changing one's life in order truly live. Like the lead Sandra Billings, I work in the entertainment industry but as a writer/director, recently having moved to Los Angeles I have begun to come across huge cross roads in my career, one particular one had me suffering a crisis of self, having opportunity presenting itself in front of me yet my soul being compromised. Like the oracle that is the I-Ching, the book came into my life and provided such guidance back to my inner strength that was exactly what I needed…long story short, I made the right decision. Thank you to Andrea Adler for writing the book and helping to wake fellow creatives up. I know it will positively impact all no matter age, gender or career, for it is a universal zeitgeist."
–– SARA WERNER, Director
"Adler's Pushing Upward has lassoed our senses by reminding us of the cultural, ethical and spiritual climate of our time — our common struggle to find our identities, as we learn what it means to love ourselves and make peace with our chosen path. The heartfelt story of 21-year old Sandra, a girl in the autumn of her life and 80-year old Emma, nearing the end of hers, leaves an indelible mark that changes them, and us, forever."
–– Ann Cafferty, Law Asst.
"Bravo! Andrea has magnificently depicted the struggle and confusion young women go through when faced with life decisions. The best part is, she has accomplished this with great humor, sensitivity and integrity. I can't wait for this book to become a film."
— Sofia van Surskum, Executive Director, Durango Film Festival
"Pushing Upward is a power-packed page-turner –– an example of visionary fiction at its best. Adler uses her characters to show us, not tell us, how we can create conscious transformation in action . . . the way it works when used properly, the way it blows up when we ignore the signs — especially when the answers are not what we want to hear."
–– Kay Snow-Davis, consultant
"Pushing Upward made me think about my life in a way I never did before. It gave me permission to dig down into my past where it was too painful to go by myself. The humor helped me to bring memories to the surface, and move through my own shadows in a less threatening way."
— Evan McCulloch, musician
"Pushing Upward is woven together with thick texture and color; the characters are raw, real and honest. I love how Adler takes the reader on that rollercoaster ride we've all been on . . . the one where we believe in ourselves one minute, and then the next, search for an escape when that belief is hard to find. Pushing Upward has 'bestseller' written all over it. But most importantly, the lives and the minds and the hearts it will touch will be tremendous. This is a work of art — beautifully crafted and molded by every step Sandra Billings took."
— Holly Zubot, Marketing Consultant
"I relived the confusion and excitement of my twenties, the many choices, the romance, the degradation, the danger, the ecstasy, the search to find a place in the world and the answer to unarticulated spiritual questions. Pushing Upward describes with relentless honesty the exercise of courage inherent in the human condition."
— Ana Benscoter, teacher
"Andrea is a most engaging writer. . . . Pushing Upward is a delight. I honestly had a hard time putting it down and then didn't want to see it end. For days afterwards I found myself missing Sandra Billings and wondering what would happen to her next."
— Jessica Stuart Yudelson, acting and speaking voice coach
"Pushing Upward brought up shocked and poignant recognition, as it rocked both my forty-three-year-old self and my five-year-old self. I found that when I took breaks from reading it, I treated my children differently. The best words of advice I ever read about parenting were: 'Children may not always remember what you told them, but they will never forget how you made them feel.' This book makes this point more eloquently than any work of fiction or nonfiction I've read. And the power of the book lies in Sandra's triumph over her internalized demons. The lesson of the book is not in her brilliant debut with its glowing accolades, but in her life-affirming disciplined choices that allow her to grow, as a person and as an artist. I think this book should be read by any actress, and by any woman, and by any person."
— Julie Novak, mother
"There are many things I love about Pushing Upward. One is how it portrays the struggle to find, and establish, one's self in the world at 21. We all start this process as children, and it continues throughout our lives, until, at last, we become less enamored with holding up the illusion of a separate self – ready to melt into the grand, boundless, limitless 'we'.
"But when we're young, to survive, it's 100% necessary to break free from the families, schools, governments, religions, etc that all want to snuff out our soul light. This is the struggle you show us all too well in Pushing Upward.
"There were so many external forces trying to push us down when we were young. I remember it clearly. And it took strength, imagination, love to keep on pushing through mountains of negation. I don't know if kids today have the same debauchery of spirit to rebel against. They seem content to belong to status quo – perhaps they are starting this lifetime already at 'we'?
"Incredibly well done! Draws the reader into each situation, where I felt I was actually in every scene, three feet away from the drama; the language, dialogue, descriptions, all perfect and 100% you're voice.
"And I absolutely love theater – so cathartic, transporting, redeeming.
"Through this movie, hopefully, young people who never attend theater, will get how cool it is – I love how a community of actors, directors, set builders, gets so bonded over the course of a run. All this comes through in your book, and can be used quite beautifully in a movie – where the audience gets a visceral example of how good it is to be part of a 'we' and how success only comes from the 'we'. Disconnection is a common malady in our culture today – we see this in Sandra, then we see her, through theater, resolve it. I can see each scene playing out on the big screen."
–– Jack Rose, Founder of Waves for Water
---
A FEW AMAZON REVIEWS
Read This Book!
Israel Sushman, February, 13, 2013
"Written so well in a crisp, endearing writing style, Ms. Adler captures what it's like to be early 20s – starting out, starving, ambitious and scared. But more than that, she exposes with vulnerability and honesty the emotional ups and downs of the main character as she aspires to make it as an actress in Los Angeles. References to the I Ching weaves in a context of greater meaning to the story, but the non-believer can breeze through these sections as the book stands on its own without the I Ching references. Adler should keep writing!"
A Fresh and Healthy Blend, September 13, 2012
By Read'em Cowboy (Santa Ynez, CA. USA)
"I've never read a book before that blended humor and drama and empowerment AND a very fresh use of the Eastern philosophies. The protagonist is a young, attractive dying-to-be-actress American girl. On the book's one-year journey, in 1974 L.A., she finds the help she needs in an aged woman with a great and young spirit and in the even more ancient Oracle of I-Ching. Both helpers are blended into this dramatic, and sometimes comedic, time of her life. And she needs help, because of some dark struggles in her past that challenge her and because she is estranged from a family that doesn't accept her. We are drawn in and pulling for her. It's a brave book. A healthy brew for the young and not young.
Pushing Upward, September 18, 2012
By Sheila K. Lewis "children's writer (New York, NY)
"Pushing Upward" by Andrea Adler is a fresh and engrossing read that surpasses the "chic lit" and "spiritual memoir" genres, standing truly on its own two feet. Set cleverly in the structure of the I Ching, the oracle heroine Sandra Billings consults as her tumultuous first year pursuing an LA acting career unfolds, the story is fast-paced and full of drama. Most intriguing is Sandra's friendship with an elderly mentor, Emma. Their relationship is complex rather than sentimental. Andrea Adler wrote with such authenticity and attention to detail, she must have lived in Sandra's world, but rather than just reporting it, she allowed us to be part of Sandra's transformation as she moved through personal and professional obstacles. The I Ching hexagrams masterfully and gracefully described these challenges in each chapter, leaving me wanting to read more and study the I Ching. I highly recommend this book for young people (20's and 30's), aspiring actors, artists, and seekers of all kinds, and for "older" women who love stories of triumph and transformation. Though set in LA decades ago, Pushing Upward is a timeless and relevant coming of age tale. Read it and share with friends.
Sheila Lewis, New York.
Captivated, connected and inspired!
October 4, 2013
By Cali T. Rossen
"Author Andrea Adler's illuminating story had me captivated right away & hit me energetically between the third eye. I deeply connected with her character Sandra Billings, who like me is an intensely aware, longing actress, who is "pushing upward" in the labyrinth of her acting calling. Ms. Adler's novel profoundly inspired me to the core!! Thank you Andrea Adler!
"After completing Andrea Adler's PUSHING UPWARD I researched the I Ching and did my first reading. Hexagram 3 (Difficulty in the beginning) The number 3 alone was my confirmation. I'm starring/producing a sy/fy series called 3 Orbs Of Light. Hexagram 3 says: Keep going despite difficulties, and you will find the success you desire."
An inspiring and moving story that anyone at any age can relate to, September 17, 2012 By reader girl
"A friend thought I might "relate" to the book, and I absolutely did. When I was 25 years old, I moved to LA to work in Hollywood in public relations for movies. I absolutely loved how Andrea Adler wove the story of Sandra Billings with the I Ching. I also studied and worked in the healing arts for several years, so I found that it was the perfect blend of the wacky happenings in the entertainment world with the perspective and teachings from the Far East. I could completely relate to the places Sandra Billings went in Los Angeles, as well as the places she went in her mind and heart. I really believe in synchronicity, and it seems that this book fell into my hands for a specific reason. I was truly touched by the rich and raw characters you created in Sandra and her sweet relationship with Emma. I was in tears at the end."
Definitely a good read, September 17, 2012
By Barbara Marks (L.A. CA USA)
"Sandra Billings is really all of us–at one time or another — in our lives: searching for meaning, for the next step, for the right person and the right part to play. And like all of us, she's got demons to work through and angels, in strange and surprising shapes, to guide her. It's a thoroughly enjoyable journey, filled with surprises and the ineffable wisdom of the I Ching. I highly recommend it."
…to meet your dreams halfway, February 3, 2013
By a-lit-erat (the Black Swamp)
"We may not always 'know' why things happen the way they do but when we keep ourselves looking beyond the obvious we keep moving forward or in the case of Sandra Billings, pushing upward. This novel is laid out like the yellow brick road that we know is leading somewhere important but just like Sandra and her supporting cast of characters, we are swept up in the experiences and then the excitement builds to the moments of cognition and elation that encourage us to take yet another step. You are sure to recognize a bit of yourself in this automatic page turner filled with nods and ahhhs and perhaps the guidance YOU need to keep pushing upward in your own life."
Crossroads and the Right Questions, January 29, 2013
By Hanna
"I 'happened' upon Pushing Upward by chance. I actually picked it up while waiting for someone, thinking I would just eyeball it, but I couldn't put it down. At different ages and stages in their lives, the women in this book all come to very meaningful crossroads and are faced with some heavy duty contemplations and decisions. Yes, there are a few men, but they sort of come and go while the women continue on their respective journeys, which are at times parallel and at times joined together. this book is a novel but it is also a guide. When we come to a crossroads in our lives we have to stop, look and decide but it is important to know what question to ask. in Pushing Upward I found much more than just a gripping life story, but a meaningful new outlook for myself. And I learned about the asking of the right questions." — Hanna Ben Tzvi, Israel
Remembering our Innocence, December 15, 2012
By Sheryl Glick Host of "Healing From Within
"A coming of age story of transformation and shared spiritual awareness as the author, Andrea Adler shares her understanding of what might be the norm for most people-dysfunctional families, childhood emotional traumas, and a desire to understand our unconscious and often self-sabotaging behaviors. The main character, Sandra, overcomes repressed memories of abuse leading to an eating disorder and through the love of a stranger who encourages her spiritual growth and self love triumphs over the human condition to regain her spiritual power. A must read for people who seek to understand any painful family issues for once again finding true happiness."
Close to home, November 27, 2012
By Lilu –
"As an 21-year-old actress myself in LA (originally from Montana) I instantly connected with the story Adler starts painting in chapter one; but her skill with character development is what really drew me in. I already knew I could connect with the Sandra's circumstances, but it testifies to Adler's enticing writing that Sandra's personality rose of the page, so close to home I felt as if I was her."
A Delicious Story! November 5, 2012
By Chellie Campbell "The Wealthy Spirit"
"This is a thoroughly delightful book! As an actress myself in the 70s, I could really relate to 21-year old Sandra Billings as she makes her way through auditions, disappointments, and triumphs circumnavigating the world of Hollywood. She's a little zany, a little scattered, but alot talented, and she encounters some wonderful characters along the way, especially the Wise Woman who becomes her roommate and mentor. Ah, yes, and then there's the uncannily accurate fortunetelling of the I Ching…altogether a thoroughly engrossing novel that will delight and move you. Enjoy!"
A Fun Novel with a Great Pay-Off!, November 3, 2012
By Laurel –
"This is an extraordinarily wise, well-written and entertaining book. Once I began it, I couldn't put it down till I'd finished the final page.
"A lot of stories provide an intriguing journey to nowhere — an interesting trip but ultimately without rewards. Pushing Upward is fascinating, informative and fun. It's also wonderfully cinematic. I think it will appeal to a very wide swatch of readers — including aspiring actors and writers, women of all ages, people with an eating disorder, and those who look to guide their lives from a higher source of wisdom. It's an absolutely delightful and highly-rewarding read."
Entertaining and Inspired, October 14, 2012
By Robert Schnitzer
"Pushing Upward is first-time novelist Andrea Adler's brutally frank roman a clef set in 1970s Los Angeles, recounting the sometimes painful but always fascinating story of aspiring actress Sandra Billings' journey of inner and outer discovery.
Sandra finds guidance by turning to the ancient art of the I Ching, and the wisdom from those teachings resonated within me, as well, lending a wonderful bonus to this evocative tale. Ultimately, however, Sandra experiences her long sought personal and professional transformation through her relationship with Emma, an elderly matron in whose home Sandra settles in exchange for helping out with shopping, cleaning and running small chores.
"Like all good stories, I rooted for Sandra as she struggles through strange roommates, perilous auditions, disappointing love affairs, haunting memories, fickle friendships and impoverished finances. Yet throughout this entertaining and inspired journey, her indefatigable spirit endures, lifting ours in the process."
Heart, Soul and Wisdom, October 13, 2012
By The Blossom
"Andrea Adler has written a beautiful book about the transformative journey of a vivid and multi-dimensional character (Sandra Billings). From the first sentence forward I was hooked, hungry for what would happen next. Each time I opened the pages, I was invited into a world I wanted to know more about. And each time I put the book down, I couldn't wait to pick it back up. I recommend Pushing Upward to anyone who enjoys an epic adventure filled with heart, soul and wisdom."
Fun, Easy, Uplifting…, October 10, 2012
By Carly Alyssa Thorne
"Pushing Upwards is a fun, easy, uplifting, book to read… If you are into Spiritual Aspects of live and have ever been an actress and have lived in LA as the Character Sandra did or NYC or anywhere for that matter, and are a woman who has had her shares of ups and downs you truly will Love this book and will be able to relate on many levels… Enjoy the Journey." – Carly Alyssa Thorne
Courage or Self-destruction? October 9, 2012
By susanminerbeauty
"Having lived nearly 10 years in New York City and having worked in LA often, I had many struggling actor acquaintances. The combination of living on one's own in a major/expensive city, navigating one's early twenties, and receiving rejection after rejection is a whopper. This lifestyle often leads to massive courage or massive self-destruction or some composite thereof. So for me, the character of Sandra Billings in Pushing Upward is a believable character. She combines all the characteristics mentioned plus one more. She was sexual assaulted when she was a child.
"I've had many conversations with friends from the modeling business, which is similar to the acting business in that they both have young women forging it alone and peddling their good looks, about the percentage of models who were abused. It does seem that many models and actors came from abusive families. Why is that? Well, maybe because young people from safe homes are not SO eager to `starve' in the pursuit of fame, fortune and acknowledgement of their self-worth.
"Andrea Adler, the author weaved in the I Ching which is an ancient Chinese oracle. I enjoyed being introduced to this tool through the novel. As with other Hay House novels, the thought provoking subjects are right up my spiritual alley and still allow me the pleasure of simply relaxing and reading a novel."
Laugh, Cringe, Gasp, and Cry right along with Sandra!, September 28, 2012
By Kris Collier (New York, NY)
"I thoroughly enjoyed the book, the characters, the message, the adventure, and the experience. Whether Sandra Billings was driving too fast in the too-tired Fiat or speed-gobbling croissants, I was right there with her. Sometimes, I was her. And sometimes, I was just the observer. Much like real life – really. Being present while watching Sandra learn to be present was powerful. I HIGHLY recommend this book to anyone with a conscious."
Pushing Upward tells the truth . . .
"A great book in my opinion is one that you keep thinking about once you put it down. Pushing Upward is that kind of book. You think about it because like it or not, you can relate to the protagonist (Sandra Billings), or you remember a time when you could. Whether it's self-defeating behaviors, feeling unworthy or not good enough, feeling like an impostor, feeling defeated, paralyzed by self-doubt, being self-absorbed, out of balance, jealous over the success of others, disconnected from true-self, or pinning your well-being to something outside of yourself (a particular person, milestone, or event) etc., most of us have been there.
As I went through Sarah's journey with her, I found myself wanting her to stop, get centered, breath, connect with her truth, and then engage from a place of . . . "Who I am is enough . . . it's more than enough. I have a gift to share and I'm here to share it. I'll do my part . . . and not worry about the rest." And then I remembered . . . oh yeah . . . I should be telling that to myself!
This a great read, which lives up to the definition of "fiction" put forth by Albert Camus. "Fiction is the lie through which we tell the truth."
Kathy Forbes / October 12, 2015
"Pushing Upward is the definition of inspiration whether the plot directly talks about your struggles or not it is endlessly relatable in so many different ways. I instantly felt connected with Sandra before even reading the book just based off of her aspirations for life and career and I am so thankful that I read it in 2 days because I couldn't put it down. Andrea's way of explaining Sandra's feelings in every exact moment without really having to say much at all truly shows how talented she is. Sandra Billings is one of my all time favorite characters to read about and every time I read this book or maybe just one page of it reminds me of the purpose of life and perseverance and it also reminds me of why I wanted to be an actor in the first place. Just the idea of how one character, story or monologue can completely change someone's point of view and inspire their life in so many ways and that's exactly what this book did for me. It showed that dreams are always attainable and hard work is at the root of everything and I feel like I don't know how I went on without ever knowing this book. Truly inspiring, and one of the best reads of my life! No matter what your struggles are or road blocks this book will teach you how to keep going and it really is relatable to anyone. I DEFINITELY recommend this book to anyone!"
Ashlyn Goodban