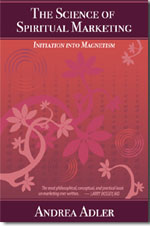 The Science of Spiritual Marketing: Initiation into Magnetism
By Andrea Adler
"In today's world, business owners and marketers are faced with ethical and moral marketing choices that are vitally important for the welfare of our entire culture and the earth as a whole. One marketing path leads to rampant consumerism and blind, unsustainable materialism; another leads to wise choices that honor the earth, our climate, and the fate of future generations.
In The Science of Spiritual Marketing: Initiation into Magnetism, Andrea Adler sensitizes people in all professions to these issues and enables them to choose wisely. It is crucial that her message be heard."
–– Larry Dossey, MD,
Author of The Extraordinary Healing Power of Ordinary Thing
and Healing Words
"This wonderful book shows that spiritual life and material life can be partners, that accepting the ancient wisdom, "know first the kingdom of heaven within you and all else will be added unto you" remains forever true. Andrea Adler's experience, intelligence, and enthusiasm for what she writes leaps out and is contagious. The Science of Spiritual Marketing is challenging where it should be and in its practicality shows genuine compassion for all of us who want to succeed in the world and make it a better place at the same time".
–– Richard Moss, MD author of The Mandala of Being
"If we are to create the great Shift in Transformation that is needed for our times, we will need to fully appreciate the spiritual dimensions of marketing. Andrea Adler's book does that for these times."
–– James O'Dea, Past President of Institute of Noetic Sciences
"Many business owners, especially small business owners, come at marketing from a tactical perspective. And even with a strategy, it's possible to miss the market, or the window of opportunity. Could there be some vital knowingness that's missing? Andrea Adler explores this question and offers a guide for marketers and business owners to a more powerful holistic approach. Through real-life examples and exercises, she helps the reader discover a new world, and new ways to connect with audiences – and achieve success. "
–– Chuck Bins
"The Science of Spiritual Marketing is not only inspiring, stimulating, insightful, profound, educative, and eminently practical with doable exercises and advice, but entertaining and fun to read. Andrea Adler presents marketing and business development as a spiritual experience, opening internal doors to brilliance. This is a book to read, hold, savor, and read again. It's a book to use for bibliomancy. This book is not written just for marketers; it applies to issues of aspiring entrepreneurs of all kinds.
I LOVE this book."
–– Betsy Robinson, Previous Managing Editor, Spirituality & Health magazine
"The Science of Spiritual Marketing is a penetrating understanding of a holistic approach to expressing one's sacred design, using marketing as both an explicit profession and as a metaphor for living your life's work. It is an excellent book for inspiring people to live an authentic expression of their life."
–– Gabriel Cousens, M.D., Author of Spiritual Nutrition
"As our business culture evolves from Capitalism 1.0 where self-interest trumps community interest to Capitalism 2.0 where self-interest and community interest are sustainably integrated, it needs to develop a new, more authentic voice. The Science of Spiritual Marketing is a roadmap for navigating this evolutionary journey."
–– Joseph McCormick, Co-founder, Reuniting America
"Adler sets a new high water mark! A book every business strategist, CEO, owner or marketing consultant will want to read…and read again. Clearly lays a pathway for the visionary or hands-on manager seeking to grow their business."
–– Martin Rosenberg, PhD, Chairman Santa Fe Film Festival
"For the first time, an author has captured the true essence of marketing. It is a soul method. Marketing is about spirit and Andrea introduces the methodology brilliantly."
–– Joia Jefferson Nuri President, In The Public Eye Communications
"Andrea Adler's new book, The Science of Spiritual Marketing turns the normal marketing paradigm on its head and proposes a new business equation that should be taught in all business schools – an authentic story + a product or service that benefits mankind = a magnet for success."
–– Miriam Knight, CEO of New Consciousness Review
"Andrea's' paradigm signals the beginning of a great new direction in honest, direct communication between marketing clients and their audience. Learning about the history of the perceived "evils" of marketing gives one the knowledge and confidence necessary to move forward with a clean conscience, renewed vigor, and — let's face it — newfound joy.
"Thank you, Andrea. I feel better already! Integrating what's important to me makes me feel so much better about shouting my own praises from the rooftops."
–– Jim Tomlinson, The Sage Post, Jerome AZ
"Hard-core business types will be pleasantly surprised at how this book hits home. Andrea's holistic approach is just what Madison Avenue needs to get their message through to today's jaded consumers who have learned to tune out much of our marketing messages.
"This lady transcends the gulf between the business world and what we used to call 'Eastern thinking.' Go into this book with an open mind and be rewarded beyond your expectations."
–– Kenneth E. Guard, Certified Financial Planner, Fort Myers, FL
"If you want to live a life with new consciousness, personally and professionally, The Science of Spiritual Marketing: Initiation into Magnetism, by Andrea Adler must become your bible, otherwise you will be pouring your wisdom into old paradigm models of business and marketing that are dead and dying.
"You owe it to yourself and the world to hitch your dream to the brightest star of movement. Andrea Adler opens the gate! If you are ready for magic in your world, read this book!"
–– Kay Snow-Davis, President Global Family Education Center, Inc.
"I just finished reading "The Science of Spiritual Marketing", which I could not put down! It is immensely compelling and I am beyond excited to take her tele-course.
"After months of laboring over marketing books for a literature review, contacting marketing professionals in business and education, I finally found satisfaction in my quest. Andrea's approach to marketing utilizes the body-mind-spirit connection, uniting my personal and professional strengths to employ marketing. Unlike the heady and complicated theories I've waded through, Andrea clearly guides connection to one's professional worth and skill, the core self. She then facilitates this core strength into concrete, clear communication of one's value to the appropriate audiences. We all have our "right" moments for big shifts in our lives, and when you are ready to refocus your personal and professional life, Andrea is a passionate, inspiring guide for this work. She has changed my life beyond marketing."
–– Kim Schmidt M.A. Candidate,
Dance/Movement Therapy & Counseling, Columbia College Chicago
"I listen to Andrea's recordings, I carry her books around with me –– one on my bedside table and one that travels w/ me in my car in case I get a few minutes in my day to re-read her material. What Andrea offers is more than just business acumen & marketing. What she is really teaching is an amazing spiritual discipline and journey into self-mastery. The beauty she extends across the unified field is a true gift. What she offers is of great service to the planet."
–– Krista Holland, Painter, Yoga Instructor
"In my work with holistic professionals and practitioners, I see many people struggle with the challenges of putting their values into their businesses. This book shows us how we can blend our values and vision with the realities of building a business. It showcases many ideas and techniques and helps you determine what will work best for you. I highly recommend "The Science of Spiritual Marketing: Initiation into Magnetism" and am proud to have Andrea Adler as a Professional Member of the Holistic Chamber of Commerce!'"
–– Camille Leon
"We can be both spiritual and materially successful, and Andrea Adler tells us how. A gifted writer and superb communicator, she helps us to see that how we market is how we think, relate, and live our lives. A metaphor for life itself, her artfully presented information helps us explore our own values, transforming us in the process. A great read with many rewards!"
–– Hyla Cass
"I loved the calm, confident energy of this book. Reading it was like taking a shower of spirit.
"Being a word person, I don't usually react to books in this way. However, it was clear to me that the author's beneficence and wisdom were coming straight at me from the pages.
"If you can't stand egotistical marketing gurus yet need to market your business or yourself, you may react the same way as I did."
–– Experienced Seminar Leader
"Marketing a business is often a very tricky thing to do, both based in the business owner and their beliefs about who they are as well as the business and how deeply they believe in it. "The Science of Spiritual Marketing," is a book that makes you think outside the paradigm of normal marketing. It asks you to look within and to see so many things that typical "insert tab A in slot B" marketing books fail to do."
–– Mahalo!
"I really enjoyed reading this book, as an entrepreneur I was able to snag a lot of jewels that was dropped in this book with regards to developing my business enterprise. I realized after reading this book that it is really about self-development, which will then take care of the business aspect. Also about aligning your purpose with your desires. Very good read!"
–– Evercool!
"This is a pragmatic and soul filled book about marketing. Extremely helpful guidance through the marketing journey. Many thanks Andrea!"
–– Yvette Lokotz "Neshi"
"I have been a recipient of Andrea's newsletters for some years and have admired her blend of practicality and spirituality. As the owner of a healing center, many of the points mentioned in the book spoke to me. I recommend this book to therapists and spiritual business owners alike. I am currently transitioning my business and will read Andrea's book to help in the decision-making as I go through a transformation. Thank you Andrea for giving a practical slant to an esoteric occupation."
–– Patricia
"Yeah! I enjoyed reading the book, the stories and the quotes are great. The concepts and the illustrations are also phenomenal."
–– Hugo Monroe